Services
Cazador Interactive supports businesses to improve their visual communications by leveraging modern technology.
Cutting-Edge Technology from Cazador Interactive

Content Apps & Integrations
Dozens of available third party integrations and feeds available.

Custom Content Creation
Expertly designed assets and collateral to support your brand.

Digital Signage
Showcase video content and reader boards, updated in real-time.

Digital Signage Media Players
Display information using a robust, multimedia experience.

Digital Signage Software
Cross-platform message compatibility for iOS, Android, MacOS and Windows.

Donor & Recognition Displays
Encourage donations and thank people for their contributions with individualized messages.

Event & Building Directory
Offer guests comprehensive information about the building or event on-demand.

Interactive Kiosk
Flexible access point offering the easily-accessible information your visitors and customers are looking for.

Interactive Wayfinding
Guide building visitors with an interactive app.

Managed Services
Our experts handle all setup and maintenance with white-glove care.

Mobile App Solutions
Manage and update your digital signage through an easy-to-use mobile app.

Room Booking & Desk Scheduling
Have your virtual receptionist help guests sign in, book, and check availabilities easily.

Social Media Apps
Highlight user-generated content from platforms like Facebook, Instagram, and Twitter.

Sports Stats
Highlight team scores, announcements, ranking leaderboards, and more.

Thermal Screening
Quickly scan body temperatures to ensure onsite safety.
Video Walls & Touch Screens
Leverage wall space to promote messages and updates.
Applications & Available Features
Cazador Interactive's solutions include a wide array of features that can greatly support your business goals, such as: environmental graphics, touchscreen support, HTML5 signage templates, a desktop notification suite, augmented reality plug-ins, and more!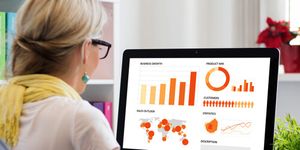 Content Manager
Publish and schedule engaging content across all your channels.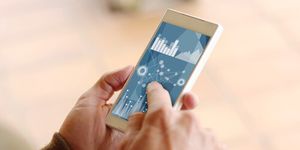 Cloud Deployment
Enhance connectivity and system management.
Signage Statistics
Monitor stats across all your content efforts easily.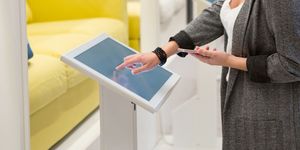 Third-Party Integrations
Add all the tools you need for better operations.
Get a quote or schedule a free demo!
Leverage the true power of your content with Cazador Interactive's support. Contact our experts now!